There are many amazing waterfalls in Bali (especially in Northern Bali). Lately, I decided to hop on my scooter and check out the most beautiful Bali waterfalls.  I knew Banyumala Twin Waterfall looked amazing, but I was absolutely impressed when I got there! It was breathtaking! I didn't expect it to be this huge, and yet, you should be adding the Twin Waterfalls to your Bali itinerary!
Where is Banyumala Twin Waterfall?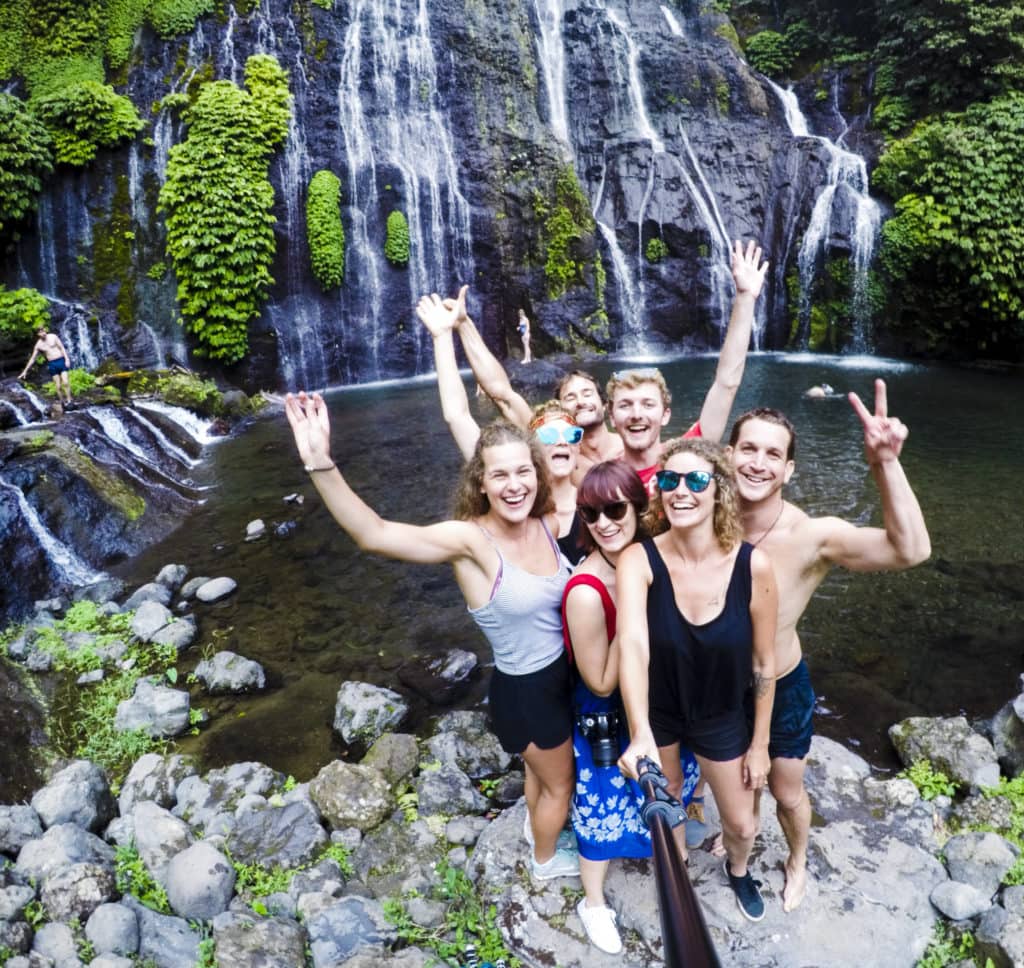 Banyumala Twin Waterfalls are located in the North of Bali in Munduk area. You can find the popular Bali waterfalls heading north of the famous Danau Buyan Lake. It takes about two hours driving from Canggu to get there.
When is the best time to visit Banyumala Twin Waterfalls?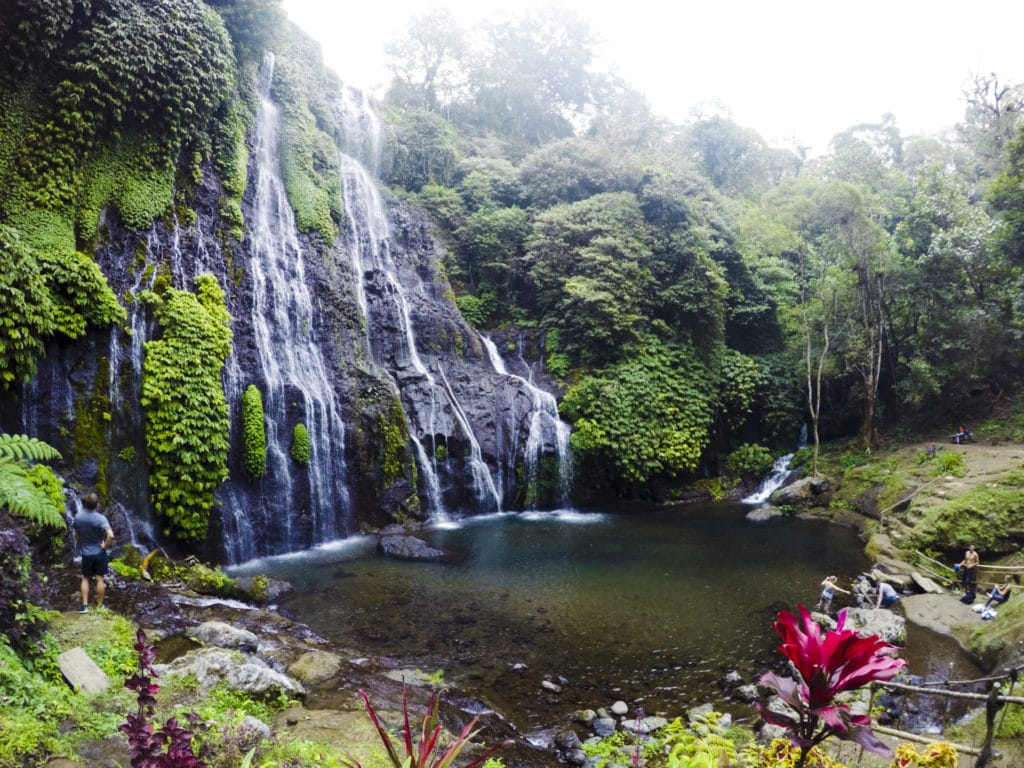 We arrived at Banyumala Twin Waterfall just before lunchtime. It wasn't that busy, but if you want to enjoy the waterfall to yourself, going earlier would be recommended. Of course, going during the dry season is a better option as it can be tricky to access waterfalls during the rainy season.
Visiting Banyumala Waterfall Bali

Banyumala Waterfall is now on the top of my list, followed closely by Nungnung Waterfall as well as Sekumpul Waterfall.
When we arrived, we had the option to park our scooter straight away or to go further and use the second parking lot, which we did. You can find a small restaurant on site as well as a restroom.
The way down was pretty easy.  You can expect to be surrounded by nature, so enjoy! The way up isn't too bad either if I compare to other waterfalls (and their stair situations), this one was one of the easiest!
How long does it take to go down: 10-15 minutes
How long does it take to go up: 15-20 minutes depending on how fit you are!
Entrance fee: IDR 15,000 + 3,000 for the parking
While you're around Munduk, you should check out Munduk Waterfall.
Tips for Driving a Scooter in Bali
We got there on our scooter. I've been exploring Bali by scooter for a while now, and here are a few tips when driving around Bali:
If you don't drive a scooter…
If you aren't confident enough to drive a scooter, you could hire a driver for the day. You can normally find a driver in Facebook groups or using apps such as Grab or GoJek (or you could also ask the staff at your accommodation). If you want to see many waterfalls in one day, you could also book a waterfall tour!
There are a few options, but they aren't around Munduk I'm afraid:
Munduk Bali Accommodation
If you're staying in Munduk, here are a few options for different budgets including some of the best Munduk hotels.
Budget Hostel: One Homestay and Warung  / Dong Paloh Hostel 
Mid-range Hotel: Lesong Hotel and Restaurant / Swar Bali Lodge / Atres Villa
Luxury hotel: Munduk Moding Plantation Nature Resort & Spa / Sanak Retreat Bali / Gunung Paradis Retreat
You may also like:
Packing for Bali | Bali Essentials
Moving to Bali | Guide for Expats
Get your monthly (and funny) dose of adventures! Subscribe now! #YesPlease
Are you enjoying this website?  If your answer is yes, you should use my affiliate links to book your accommodation for your next adventure: Booking.com, Agoda and Hostelworld!

Disclaimer: This post may include affiliate links.  Happy travels!
The post Explore Bali: Banyumala Twin Waterfalls appeared first on A Broken Backpack.
Facebook Comments